Posted by Dan Carlson on Mar 6th 2023
Turkey season is here! That means it's time to gather your gear and head to your favorite hunting spot, and for serious turkey hunters there may be quite a bit of gear to collect. You'll have several clothing layers plus your calls, decoys, water, binoculars, GPS unit, knife, shells, license and maybe even lunch to take along. Fear not! You can put it all in a Whitetail Caddy pack from Nexgen Outfitters and still have room left over.
---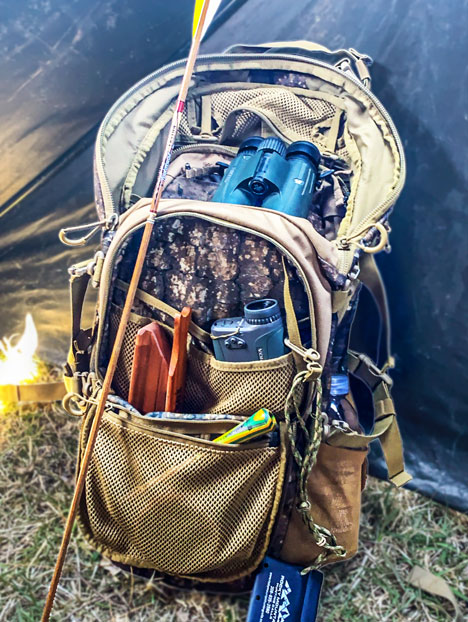 The Whitetail Caddy is outfitted with 18 pockets and pouches in addition to a spacious main compartment that's ideal for carrying collapsible decoys. Inside the pack and adjacent to the main compartment is a second one that's compatible with most hydration bladders so you won't need to carry water in bottles. Seven of the storage areas are on the outside of the pack and eleven are inside.
Silence and stealth are crucial when hunting turkeys or any other game. That's why we made the Whitetail Caddy exterior out of high-count tricot polyester. It's quiet and also prevents the pack from collecting burs, leaves and other forest debris. A water-resistant polyurethane laminate protects the pack and its contents from rain and snow, so you're ready to hunt in any weather.
---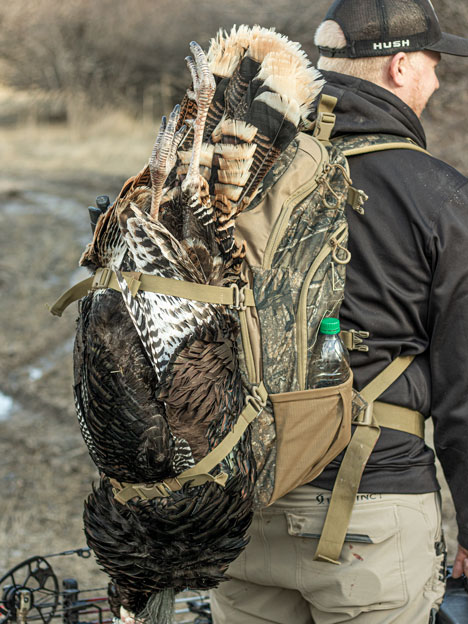 Both adjustable padded shoulder straps are equipped with MOLLE loops to which you can fasten additional gear. They are also just the right size for carrying a few extra 12-gauge shotgun shells. The waist belt is fully adjustable 1.5-in. nylon webbing, but if you'd rather not use it, there are two hidden pockets between the back panel and pack the belt can slide into to keep it out of the way. Sternum cross straps also adjust to secure the pack so your arms stay completely free. Reversible, adjustable, and removable external compression straps let you carry additional gear or a bow on the way in, and they can also be used to help carry a turkey out when your hunt is complete.
We built the Whitetail Caddy with an ability to stand upright, and the top flap can be positioned to act as a small table. This is perfect for standing it on the ground next to you and placing turkey calls on the little table within easy reach as you sit in a blind or under a tree. It's also a good place to set your rangefinder or binoculars. All in a pack that weighs less than 4 lbs.
---
This pack was designed by veteran big-game hunters who are accustomed to hunting in remote areas. That means it had to be rugged, so all seams are double-stitched and bound for superior strength and durability. The zippers are reliable YKK®. And the pack has been extensively field-tested by experienced hunters, resulting in rave reviews. Find out more about our Whitetail Caddy pack on YouTube, or our feature page.
$99 Everyday w/ Realtree Camo - True Story!