Posted by J. Nesbitt on Aug 24th 2020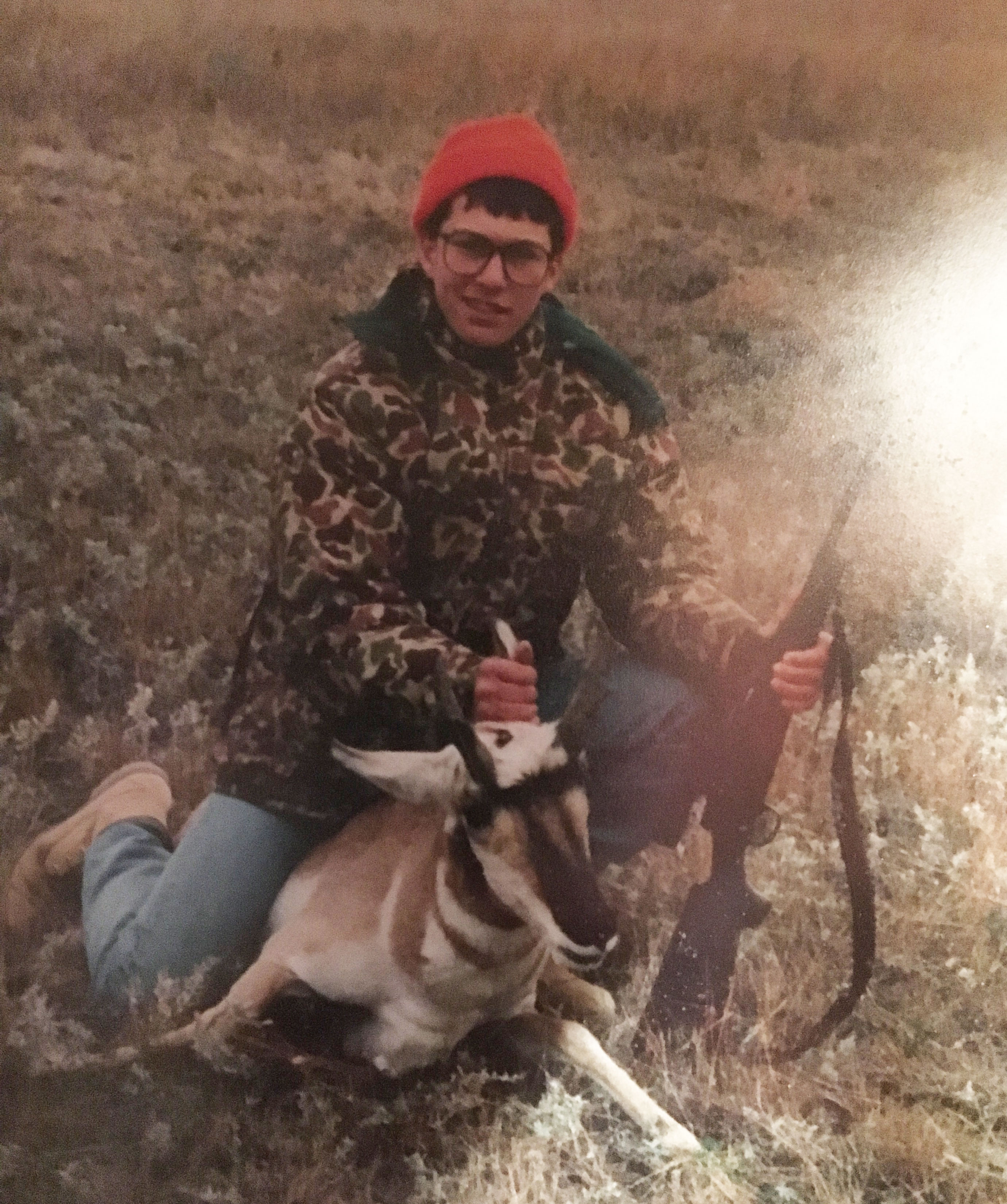 At Nexgen Outfitters one of our favorite philosopher quotes is: "Luck is what happens when preparation meets opportunity" because it really sums up how we strive to help you with your outdoor pursuits! Opportunities, especially related to licensing and access, can be a little tricky to navigate but we will save that for another blog. Preparation will be the focus of this article and specifically that list of essential gear you should not leave home without when pursuing the elusive Pronghorn Antelope.
Nexgen family member Mike is regarded around here as the GOAT speed-goat hunter, that being the local high plains jargon for the greatest Pronghorn Antelope hunter we know! He tagged his first prairie speed goat in South Dakota at 15 and was hooked. Weapon selection is obviously crucial and deserves its own post, so check out that information coming soon. Here, Mike has run down what he considers his "don't leave home without items", which he also talks about in this short video.
---
BINOCULARS
To pinpoint a target antelope in the wide-open terrain they call home, hunters will have to cover a great deal of land at a distance great enough the already jittery pronghorns will not become nervous. 10x42 Binoculars are the best optics for the job providing a great balance of wide field of view and magnification. Mike carries Leupold BX-4 Pro Guide HD 10x42mm in Subalpine Camo ($599) because of their superb lens quality and at only 24oz they are easy to carry or hold for longer glassing. A plain gray version is also available @ $499.
If you need a more budget friendly option, the Leupold BX-2 Alpine 10x42mm Shadow Gray model comes in at half the price of the BX-4 big brother but still boasts Leupold's Twilight Max light management system. These proprietary lens coatings provide excellent clarity and add 30 minutes of visibility at dawn and dusk when the biggest and wariest goats are most active.
---
RANGE FINDER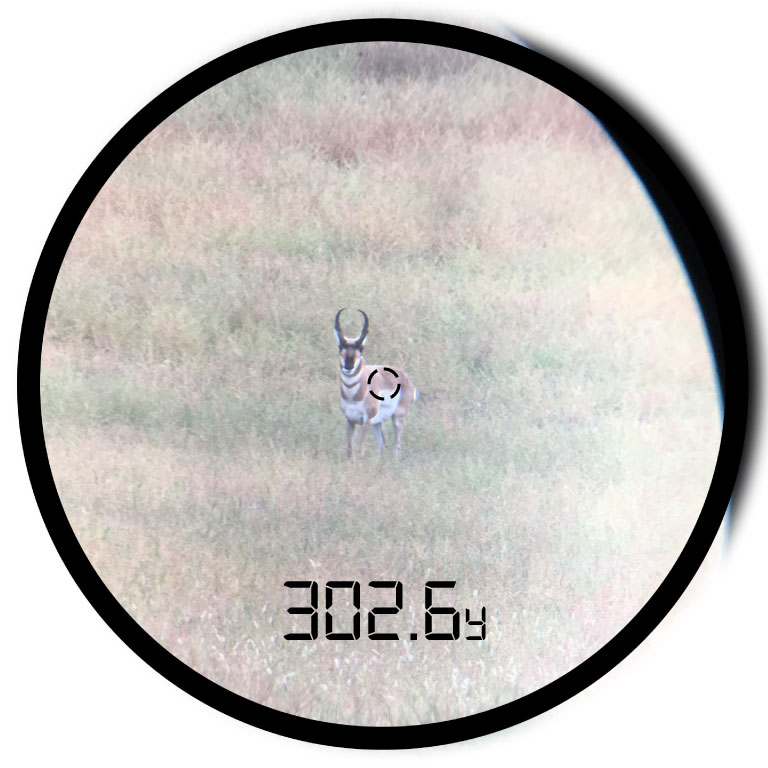 To place an ethical shot with almost any weapon, it is crucial to know your distance to the target. Many deer hunting scenarios from a blind or tree stand provide for several key landmarks or shooting lanes with predetermined ranges, but this is wide open space! Even the difference between 20 and 30 yards with a bow during a close encounter in the peak of the antelope rut makes a difference. And after you have worked so hard to get the shot, DON'T GUESS at the range. Mike's go to rangefinder is the Sig Electro Optics KILO1800 BDX 6x22mm Laser Rangefinder at $399. Bottom line, this unit is fast, accurate and reliable due to Sig's digital signal processing software (which is the best on the market). Hyperscan technology provides 4 readings per second, and with speed goats every fraction of a second counts. To top it off, the DSP Lightwave Tech allows this unit to take accurate readings right through the early fall heat waves, the mesh of a mobile ground blind or an appropriate decoy. With over 4,000 readings on a battery, you will never be left guessing.
Sig understands features at a value, so if you are looking for a lower price point checkout their KILO1000 5x25mm Black unit coming in less than half of the 1800 model.
---
SHOOTING REST
Mike's #1 critical piece of equipment to place lethal shots is his Vanguard Aluminum Shooting Stick (coming soon to nexgenof.com) with the U-shaped yolk on top ($75). It's super light and able to support several types of gear like a rifle, crossbow, shotgun, spotting scope or even a camera. The three feet lock into place in seconds providing the type of support usually only experienced with a tripod, and the ability to quickly adjust from 22" to 64" means you will never be in a situation to take an unsteady shot. To complete the Vanguard's versatility, the top yolk rotates 360deg and a ball joint just above the base lets a hunter pan and tilt to adjust for any angle or uneven terrain.
---
DECOY
Typically, in Western Nebraska a decoy becomes an invaluable tool in about mid-September and will last for a couple weeks. One of Mike's favorite fall trips is to guide a new or youth hunter on a combo decoy/spot and stalk pronghorn hunt during this time. Crouched behind a quality immature buck decoy while the dominant male is aggressively protecting his harem, a hunter will commonly experience shot opportunities under 20 yards. Our Nexgen Outfitter goat getter can seemingly read the mood of a shooter buck and present his Montana Decoy Eichler Antelope Decoy (regularly $129.99) at precisely the right time to trigger a fight. Montana Decoy is known for their design and realism, but the extra features suggested by Fred Eichler put this model over the top. The handy quickstand allows him to plant or remove the decoy and adapt to the quickly changing situation or utilize the perfectly located handle to inch closer to the herd leader. Track the action while remaining concealed via 2 see-through windows AND the Sig KILO rangefinders mentioned above will take readings right through the decoy mesh so you don't get busted trying to sneak a range reading. When not in use, fold up the fake challenger for easy storage in a pack.
---
THE PACK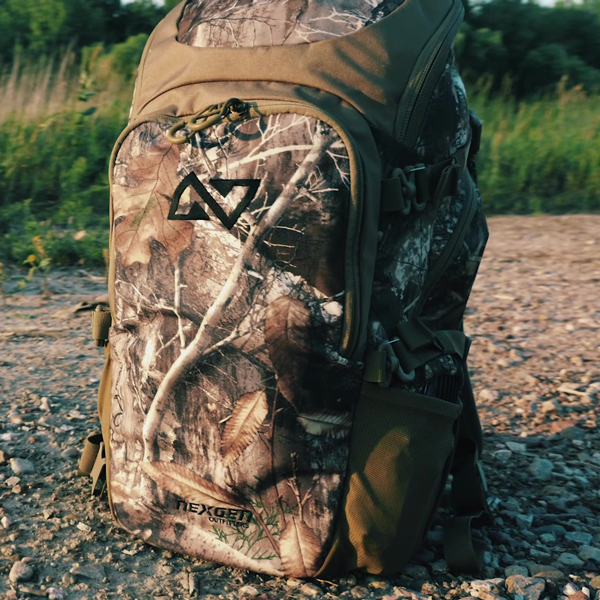 Of course, Mike carries our very own Nexgen Outfitters Whitetail Caddy Pack (in Realtree Timber) as the perfect way to store and carry all these essentials, or his essentials for ANY season. While originally designed as a tree stand pack, we have experienced tremendous versality with the caddy. All the gear described here along with your apparel and everything to care for your harvest after the shot can be efficiently organized. Adjustable padded shoulder straps and a semi structured back panel make this pack a breeze to carry, and Realtree Camo ensures stealthy concealment. It's a pack, it's a shooting rest, it's a small table in the tree or blind, it's a gear organizer, and Mike thinks for $99 it's absolutely the missing link to utilizing all your essentials in the field proficiently.
---
SHARP KNIFE
If you are lucky enough (sorry, I mean prepared for the opportunity) to harvest an antelope, proper field care will produce what our GOAT considers the best wild game table fare. The most important tool in that process is a really sharp knife, and Mike's choice is the Havalon Piranta Edge (regularly $40).Stainless steel surgical quality blades will quickly remove the entrails, kickstarting the cooling process and replaceable blades prevent any downtime to sharpen a dull knife. The handle is comfortable, and its open back design makes cleaning a breeze. This knife really shows its versatility when caping/skinning a pronghorn, especially for the detailed work around the eyelids and horn bases.
Mike reminds us every year about the importance of getting that skin off the antelope quickly for two reasons:
If that hide will be headed to the taxidermist, then the hollow hair of a pronghorn is more susceptible to slip (falling out) than many other animals so it must be removed, rolled neatly and cooled as soon as possible after the kill.
The most important aspect to butchering an antelope for high quality meat is cooling the animal as quickly as possible following the kill. The hide and hair are obviously a fantastic insulator so early removal is a huge step to facilitate quicker cooling.
---
STAY CLEAN
Keep a few extra sets of field dressing gloves in your pack or glove box to protect yourself and your clothing while gutting and skinning your harvest. Mike loves the combo pack from Allen for $5 because you get one set of shoulder length gloves for the really messy part, as well as a standard wrist length pair for detailed work like skinning chores all in one package.
To make quick work of many hunters least favorite job, the Hunter's Specialties Butt Out 2 Tool performs as advertised. Once you have used it, you will wonder why you waited to purchase one. The patented design quickly disconnects the anal alimentary canal in almost any big game animal with two turns allowing you to tie off the opening and quickly head your blade toward the diaphragm.
The Killer Gold Field Wipes by Wildlife Research is about the best he has found to provide thorough cleaning and scent control in nice sized wipes that are easy on your hands. And while Mike could suggest a fancy folding water container, at Nexgen Outfitters we are just not into pushing unnecessary gear even if it's a typical high margin add-on. So frankly just save a few milk jugs, 2L pop bottles or your morning juice containers to fill with water and carry all season for cleaning hands, tools, and the animal cavity.
---
THE COOLER
The importance of cooling your antelope meat quickly in the warm fall temperatures experienced during this season cannot be over emphasized. Mike carries two coolers through the entire fall, one for drinks and snacks with the other dedicated to preserving meat. The second is full of ice each trip and WILL NOT be opened until ready to store the harvest. His choices are a NEW 50qt Dually from Wylde Gear (coming soon) for the drinks, and the original 80qt Cabela's Polar Cap tan cooler that has been a fall truck bed fixture since his days in product design for the big boxer. Most folks do not have access to a walk-in cooler (although check back for our how-to on creating your own someday), so breaking an animal down into manageable primary cuts is the ideal method. Again, stay tuned for more posts on a few different methods to accomplish this step like using a saw or not, going boneless right in the field, or even the gutless method.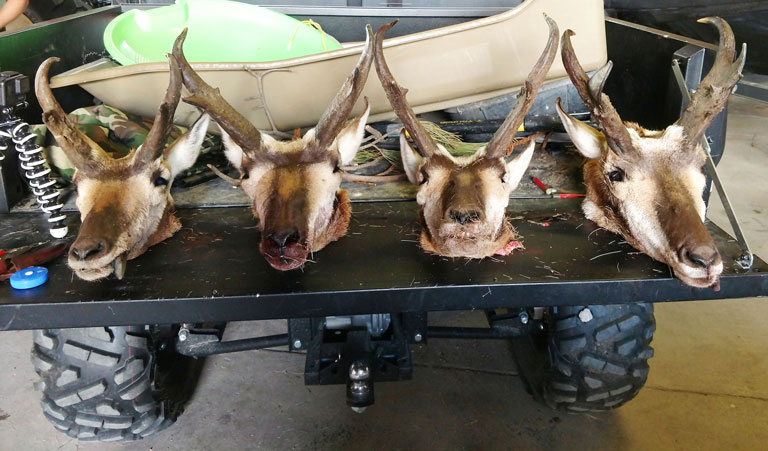 As you can see, Nexgen Outfitters had a successful Antelope season in 2019 behind our in-house guide and the essential gear we've outlined here. Many other items will surely find their way to your personal hunting gear list, and we hope you find what works best for you across these 8 essential antelope hunting items as well as all your other hunting, shooting and hunt camp needs right here on nexgenof.com.
Remember: BINOS, RANGE FINDER, SHOOTING REST, DECOY, PACK, SHARP KNIFE, COOLER, and FIELD CLEAN-UP!
And be sure to share your success stories, complete failures and just plain ol' good times outdoors with us on our social channels. FACEBOOK TWITTER INSTAGRAM