Posted by J. Nesbitt on Jul 24th 2021
My grandpa probably told me a thousand times "boy, if you had the right tool that would sure be easier". Then not an hour later I'd zip my lip while he pounded in a grounding post with the back of a shovel, stripped enough plastic off of the fencer's copper lead with with his teeth, and tightened the flat head wire clamp with the back of a pocket knife! Point is there are a lot of ways to get most jobs done, and hunting is no different. Sure we are a retailer, but there is absolutely nothing wrong with hand-me-downs or garage sale gear to get started. PARTICIPATION is the key to continuing our lifestyle and conservation of our land and animals.
But since it IS significantly more effective to use the right tools for the pursuit, this guide will give you our staff picks for the best newcomer gear. And oh by the way your mentor (read about their importance here: "How do I Get Started in Hunting") will be glad you have these items of your own.
---
WEAPON SELECTION
FIREARM

A firearm will offer the easiest preseason preparations along with enough knockdown power for a clean, humane kill. Our experience is that first time hunters are most comfortable with a light recoil caliber rifle like a .243 Winchester or 6.5mm Creedmoor and topped with crisp but simple optics. The versatility of the .243 Winchester caliber is incredible, with commercially produced rounds from 55 grain full metal jackets up to 108 grain advanced hunting bullets. The impressive trajectory, terminal ballistics, and comfortable shooting of the nearly 70 year old 243 continues to be a deer hunting favorite for even the most seasoned hunters. All the top rifle manufacturers have an economic rifle and scope combo in these two popular rookie calibers. Shop options here from Ruger, Savage, Winchester, Browning, Tikka, Weatherby, Thompson Center and more.
CROSSBOW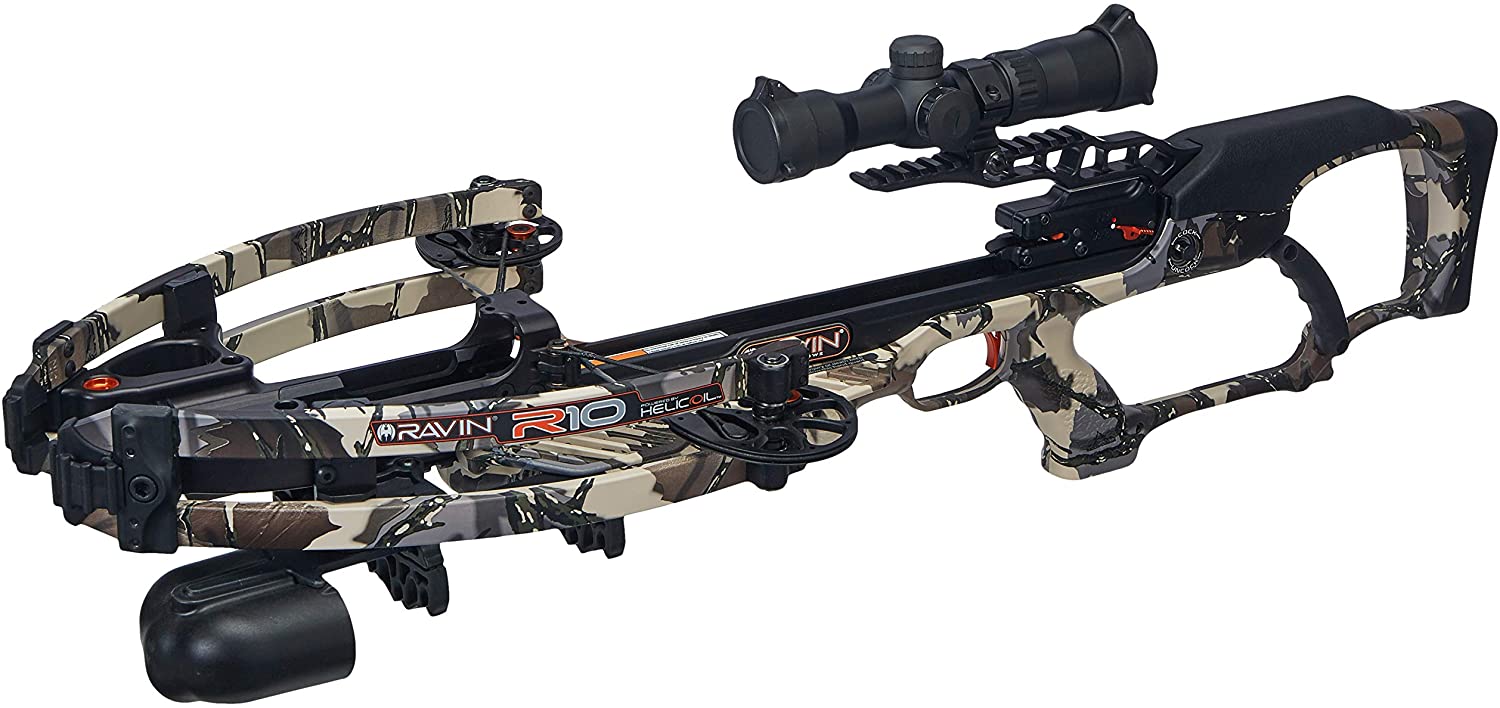 Crossbow technology has improved significantly in recent years and offer solutions to deliver the consistent accuracy and lethal power for humane kills. Often a crossbow will also allow you to take advantage of expanded archery units and/or seasons. Triple check your state's crossbow regulations HERE, as there are a few nuances to be aware of in some states. We have also assembled a complete crossbow selection guide to help you choose the best option within your budget. We have one of the best archery techs in the business and the short story on crossbow selection from his extensive experience is to either test the waters with an entry level bow like the PSE Fang HD, or jump right into a Ravin R10 offering the absolute best combination of construction, tech, safety, and ease of use.
---
AMMO
Yes, it seems to be 2021's dirty "A-Word". Normally (if there is such a thing anymore) hunting type calibers like the .243 Winchester, 6.5mm Creedmoor, .308 Winchester, .270 Winchester, 7mm Remington Mag, .30-06 Springfield, etc. are readily available despite historic runs on other "tactical" type calibers, however in 2021 you will need to be really effective with your practice rounds. Check out our article concerning whitetail deer ammunition selection to help narrow your choices before hitting the range.


The most frustrating experience we have encountered with rifle ammunition selection for inexperienced shooters is to let all the ballistic apps, bullet configurations and/or brand affinity get in the way of finding the load that will perform effectively out of your specific firearm. In most cases for example, we LOVE Hornady ammunition. However after almost ditching a Remington 700 model rifle in .270 Winchester, I coincidentally found the round that this gun loves. Headed to a range trip with my cousins, I realized that I didn't have the Hornady Precision ammo that I had been struggling to get groups out of. But not wanting to miss out on the volley of sniper wanna-be trash talking (and of course shooting) typical of our family range trips, we stopped at the local hardware store where my only option was Federal Power Shok soft points. The groups that afternoon pulled in tight to the bullseye, and I learned a valuable lesson. Your first time mentor nor your buddies will care if you're shooting $20 or $60 per box ammo as long as it is effective!
And be sure to check our ammunition page often as inventory in constantly changing

---
SLING
Perhaps on of the most overlooked yet simple accessories that can make a tremendous difference toward enjoying your hunt. Add a Quake Claw Original sling on your deer rifle to carry comfortably and securely while leaving your hands free. For under $20, it will be the best unsung piece of equipment you own.
---
CLOTHES & BOOTS
Hopefully, you have spent time outside between 5:00am – 10:00am during the season you will be hunting and can draw from that experience to manage your body temperature. A couple basic principles will go a long way toward your body's ability to place a lethal shot when the moment comes.

Break-In your boots! Wear them to work, around the house, with your shorts to mow or under the crisp Friday night lights. Just give your feet and the footwear plenty of time to train each other.

Layer Up! Check back for a complete run-down of the layering process and what each part of the system contributes to your comfort. Simply stated for this article get a moisture managing base layer, a light but effective mid-layer and if necessary, a warm but packable outer layer that goes on and off easily. Turn to modern technical fabrics in combination with a legendary player like Merino wool and skip great grandpa's advice that if you were cold in 3 cotton shirts then go with 4.

---
BINOCULARS

For us after the investment in an effective weapon, a good set of binoculars should quickly follow as your next investment. Leupold is legendary for producing high quality optics right here in the good old US of A. Our top pick for the best binoculars for the first-time hunter is the Leupold BX-1 McKenzie HD 10x42s at under $200. Superior construction using HD glass and proprietary lens coatings result in excellent low light performance in a perfectly sized unit.

For someone new to optics, the buying guides can be cluttered with scientific material names, lens coating processes, prism engineering, and all the other confusing specs that come with those components. Here's the important parts of the Leupold BX-1 McKenzie's that are getting you more bang for your buck.

Extra Low Dispersion glass (called ED or HD) is typically reserved for higher price point binos, but Leupold has chosen that glass type to provide exceptional clarity and crisp edges at greater distances. This will allow you to see enough detail to separate antlers from grass or shrubs, spotting the biggest cruisers that otherwise go unnoticed.
Leupold's advanced optical system applies coatings to the glass surfaces to further improve light transmission and make the lenses resistant to scratches. Big game are most active in the lower light periods right before dawn and nearing dusk. These advanced multi-coated surfaces will give you more opportunity to spot game clearly in those low light active periods.
Roof prism design with an oversized focus knob and adjustable eye cups means the binoculars feel natural in your hands. Getting comfortable behind these binos is quick and easy meaning less eye fatigue during close examination of crop fields, dense woods, or open plains.
Rugged construction will provide years of dependable use, and Leupold even includes a shoulder strap, case, lens covers and soft cleaning cloth with all BX-1 McKenzie models.
---

FLASHLIGHT or HEADLAMP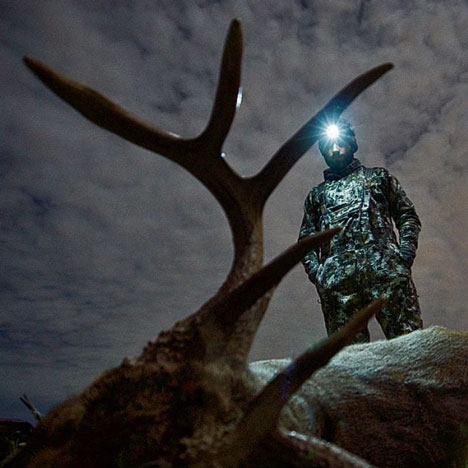 As mentioned before, deer are most active during the hours right around dawn and dusk, which means you will likely be headed to or from the woods, tracking a blood trail, and/or field dressing in the dark. Now that free AA flashlight from your insurance agent could do the trick, but lighting is another area where spending a few more bucks the right way can mean the difference between never wanting to go again and an exceptional experience. The name of the game is fine-tuning the right amount of light focused in the appropriate spot. Streamlight hit the bulleye by taking their popular ProTac line hands free making a headlamp unit in the same line with three light modes and plenty of beam adjustment. As simple as it may sound, weighing only 6 ounces with full 90 degree tilting of the light head, this hunting light will quickly become another unsung hero item in your arsenal.
Pick one up for under $70 and complete any hunting task in the dark with ease.

---
WATER

Even though temperatures are often cooler during the best times to hunt, you will still need to think about how to stay hydrated. Pretty simple to pick your favorite water bottle and keep it handy but if you'll be walking a long distance carrying water is the fastest way to increase weight. An item like the Katadyn BeFree micro filter collapsible bottle is a great addition to the vest or pack to ensure the capability to filter and store water in the field.

---
VEST OR PACK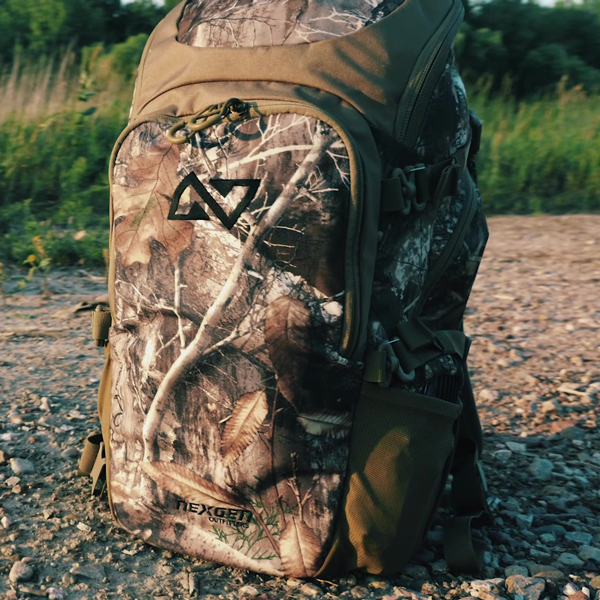 Conditions will change, and your hunting tactics will need adjusted quickly so keeping your gear organized and at your fingertips is even more important that just being able to carry it all. Obviously, we are biased toward our own Whitetail Caddy Pack, but the reviews are also stacking up in support of our first Nexgen branded deer hunting day pack. Read all about it and check out the video here, but for $99 every day you will enjoy features usually reserved for packs priced twice as much.
"The Whitetail Caddy Pack is a well designed hunting day pack that exudes quality and attention to detail. It's an impressive pack for whitetail hunting and excellent all-around hunting day pack. Priced at just under $100, it delivers a great price-to-value ratio. Highly recommended."
A simple blaze orange vest paired with the caddy will keep you visible to other hunters.

---
FIELD DRESS KIT

Once the strategy, gear and shot placement all come together for your first harvest, a few simple items can make a big difference toward a successful first field dressing.
Sharp Knife – the Havalon Piranta Edge is a great size and feel for the rookie field dresser but eliminates the chore of keeping the edge safely sharp.
Butt Out 2 Tool – from hunter's specialties will be the best $13 a new hunter will spend on his whole hunt.
Shoulder Length Gloves – obviously help minimize the mess and keep your clothes clean.
Field Wipes – like a package of Dead Down Wind's field washcloths work well, just make sure to take them out with you.

First Aid Kit – something simple with a few varied size band-aids, disinfectant, a couple ibuprofen, etc. is a must for all kinds of situations that could come up.

A 20'-25' piece of basic paracord is the safe and reusable version of duct tape in a hunter's pack.
---
We'll see you out there!!