Posted by J. Nesbitt on Mar 17th 2021
INTRODUCTION
Crossbow hunting participation has grown significantly in the last decade as many states have now removed all or most restrictions related to crossbow usage during their archery seasons. Over that same time, crossbow design has gone through a seemingly space age evolution as well. In our little shop on the east side of Sidney, NE we now see a tremendous number of people interested in taking up the archery sport with a crossbow but do not know where to start. This guide will focus on the decision points we lead those folks through, along with showing our pick for the best in each category.
This is not meant to spark a significant discussion or debate as to whether the crossbow is somehow undermining the spirit of pure archery hunting. If we are honest with each other and center ourselves in true conservation, the increased participation IS a remedy to one of the biggest issues in the hunting pastime along with increasing the chance of humane animal harvest. Much like the progression of the MSR platform for rifle hunting, the crossbow is a new tool for the NEX GENeration (see what I did there) of hunters. Ok, enough of that.

---
ENTRY LEVEL – UNDER $500
In the last few years choosing a crossbow on a tight budget has become more available with more options. However in this price range, you should still expect:
Wide Frame Limbs (~18+ inches un-cocked)

Can be a problem hunting from blind windows

Standard Rope Cocking around 180 – 200 lbs

This is often a challenge, as a new crossbow shooter could be a prior vertical bow user who simply can't pull enough weight to be effective. If that's the case, then dead lifting a couple hundred pounds to manually cock a crossbow is also probably not an option.

Un-Cocking will require the bow to be fired either with a de-cocking bolt or carrying a target bag to fire a regular bolt into.

Plenty of attention to regular lubrication and waxing of several friction prone areas.
Dan's choice for a budget crossbow is the PSE Fang HD, coming in at $399.99. Check out the standard specs on the product page or crossbow comparison page, but what sets this one ahead of the other budget bows is: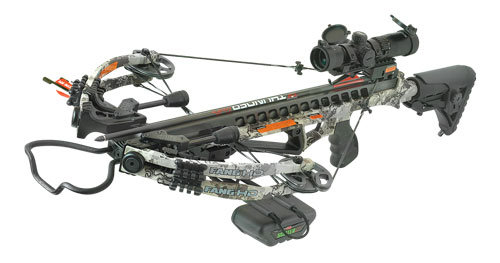 It is compatible with a cocking winch if you'd ever choose to add that feature.

The HDV 425 1.5-5x32mm Scope has an illuminated reticle with markings for various yardages. This scope is easily better than those found on other entry level crossbows.

An adjustable AR platform style stock allows shooters of any frame size to get comfortable.

Right out of the box this one includes effective string stops and limb dampeners for quieter operation.
*We are also keeping an eye on the NEW for 2021 Blackhawk 360 from Wicked Ridge (a TenPoint brand). Touting it is the only all American-made bow in this category is a huge attention grabber for us, and we are anxious to put some bolts down range with the Blackhawk soon. TenPoint has always been a leader in the crossbow industry, and if they've chosen the same or better quality scope as the Fang, the Blackhawk could quickly be our new budget pick….stay tuned
---

FEATURE FOCUSED - $800 TO $900
The next step up for us is a bow that has upgraded one of the main components to improve performance, usability, durability or all three in order to fit your hunting style better. This upgrade will about double the cost of an entry level unit, and can include things like:
Lower profile or reduced weight with better speed and accuracy.

Improved glass quality or reticle design for upgraded optics.

Improved cocking device allowing for less effort or a more precise string pull.

At Nexgen Outfitters, we see this as the most overlooked component to crossbow accuracy. Shooters tend to focus on many of the same aspects affecting accuracy as a familiar rifle. They will use good bolts and broadheads (ammo), use proper aiming fundamentals for accurate sight picture, ensure the bow "fits" the shooter for rock steady grip and stability (length of pull, and stock fit), and manage their trigger control. But with a crossbow the serving and where it contacts the bolt must be perfectly centered over the rail (barrel). See figures.

Upgraded cams or limbs providing more consistent accuracy and durability.
A couple great options stick out for Dan in this category.
CenterPoint CP400 Rope Cocking Package - $789.99
A few years ago, Ravin Crossbows joined Crosman and CenterPoint under the same ownership umbrella, introducing the chance to combine a few innovations into the 2020 CP400.Entry level features like a rope cocking device and 200 lb draw weight remain, but the now familiar Ravin head profile leaves this bow with a 10.5" un-cocked width and mere 6" width when cocked.This provides exceptional accuracy and speed while the compact size is ideal for shooting through blind windows for under $800.As a nice bonus the foot stirrup folds down as a pseudo bipod.
TenPoint Turbo M1 ACUDraw 50 Package – $899.99
No crossbow guide would be complete without something from TenPoint's legendary Turbo series.These are slightly narrower than entry level dimensions at 14" un-cocked/9" cocked to get only slightly slower (380 FPS) speed in a lightweight frame (6.4lbs).TenPoint's innovations shine in a couple ways.The ACUDraw 50 Sled on this specific model reduces the draw weight to a more manageable 85lbs, as well as helping to keep that serving perfectly positioned over the rail while cocking.Accuracy is also improved by the T5 trigger mechanism with NO creep and a crisp break much like so many favorite rifles.For the best in overall performance and dimensions under $1,000, look no further than the Turbo M1.
---

THE BEST OF THE BEST - $1299.99
Now before you stop right here and say: "thirteen hundred bucks for a CROSSBOW, these guys are out of their minds", hear me out for two minutes. At Nexgen Outfitters we have shot dozens (shoot it could be 100 or more) crossbows from every maker and in almost every design.
…Enter the Ravin R10 Camo Crossbow Package.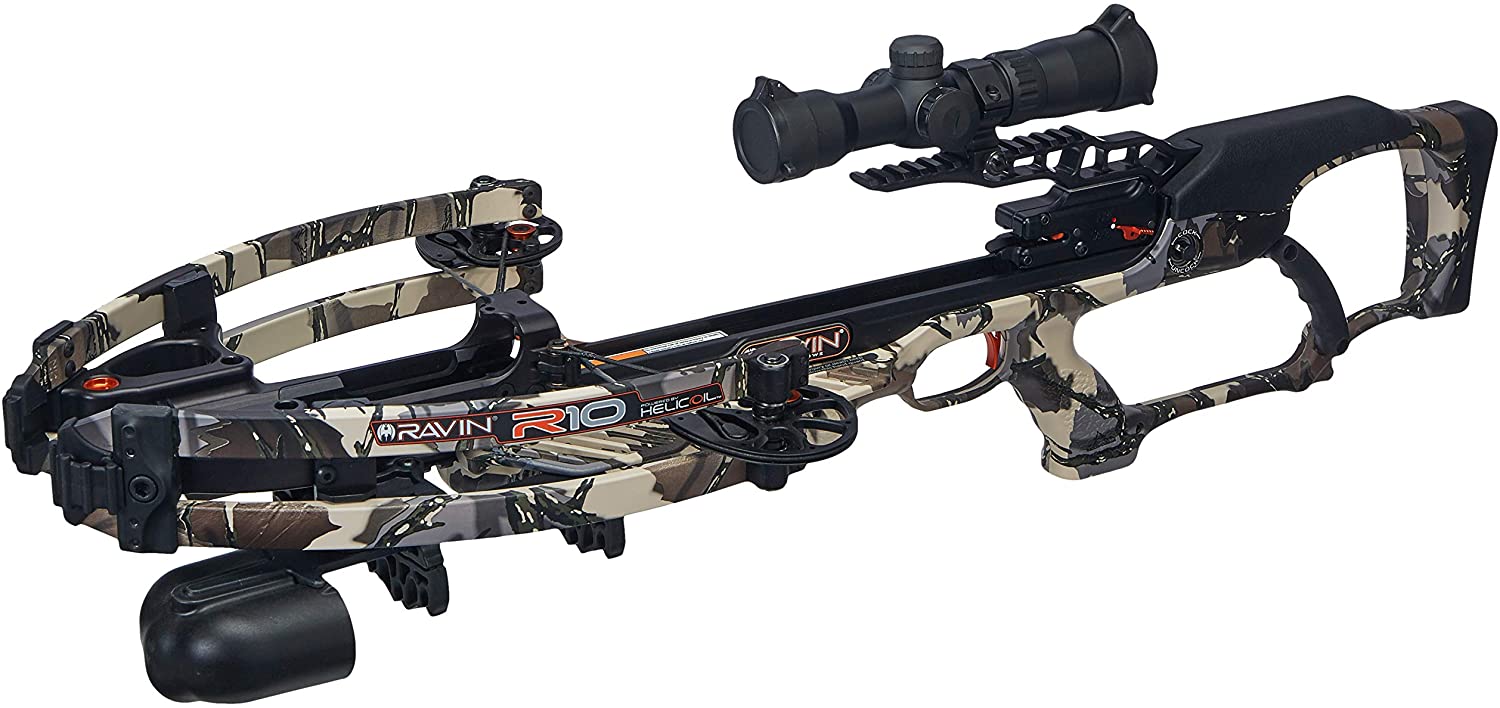 The usability and safety is superior to anything else out there. Ravin's proprietary nock and trigger system force the shooter to have safely and properly engaged a bolt into the trigger mechanism before it will fire. In fact, we tested a bolt with a cracked nock and the bow would NOT fire. Needless to say, we have NO problem letting any member of the family handle the whole process from cocking, to shooting and even de-cocking without firing. The high-quality scope features generous eye relief, along with the simplicity and accuracy of an illuminated reticle. Providing not only the confidence to consistently place precise shots with the bow, but also invaluable optics practice that can be carried over to a rifle. And the benefits just keep stacking up.
12 pounds of force on the cranking handle to cock.

10.5" un-cocked / 6" cocked / 33" long / 6.8 pounds are dimensions that allow anyone to get comfortable with this unit.

The most crisp trigger we've fired on a crossbow.

400 feet per second along with unmatched accuracy leads to devastating and humane kills.

Minimal friction points means low maintenance.
Humor me, while I go through a quick comparison:
$500 Rifle vs. $1300 Crossbow
Which caliber? Awfully tough to pick ONE that will offer the versatility of the Ravin R10
Can the whole family participate? What about recoil? Kids to Grandmas and everyone in between will be able to safely and confidently operate a Ravin.

Where can you shoot it? Rifles need a range with plenty of extra room but throw a target up at 50yds in any "big back yard" for Ravin practice.
Cost to shoot it? Maybe the current ammo situation is an anomaly, but in any market just pluck the bolts out of the targets and keep firing!
How many possible days in the field? Rifle tags in many states are draw only and maybe a week long. In Nebraska we can pick up the Ravin for Antelope in late August and go straight through the rest of the year in pursuit of Antelope, Deer or Turkeys.
So in other words, a $500 rifle is great don't get me wrong, and we have plenty of those to offer. But, a rifle is something the rest of the family MIGHT shoot, if there's the time and place to shoot safely. On top of that, we will have about 10 days all fall (IF we draw a tag) to harvest an animal with a rifle. OR the Ravin gives our family something that we literally shoot in the backyard (we are barely outside of town on 5 acres) all year round. Everyone loves to shoot it, and it has actually made them more accurate with our rifles. Even with crazy school, job and extracurricular schedules, we buy tags over the counter and find time for over 50 trips each fall. Top it off by learning to manage all the components it takes to get within 60 yards of wild game, and you've got an awesome conservation tool.
---

THE NEWEST AND COOLEST
If you approach hunting gear like the tech geek that walks out of one phone store, just to see the ad for an even newer phone you must have across the street, then this is your category and your item.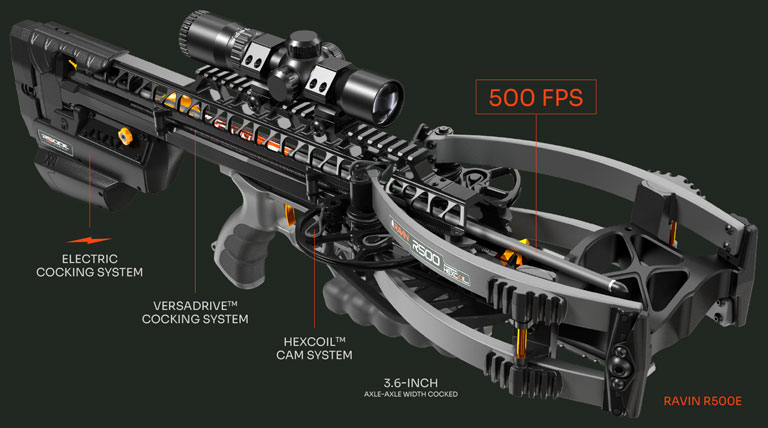 Coming Spring 2021 – Ravin R500 Crossbow Package
Ravin continues to push the boundaries of speed and accuracy with even more new tech built into the R500. Rules?…Ravin is out to break them all, and has done just that with the latest in the lineup.
Helicoil? …now HEXcoil retains the perfectly level cam system but rotates a full 360 degrees to provide the engine for 500 feet per second out of a crossbow!

Instead of a nylon strap to draw the trac-fire trigger system, the R500 utilizes the new VersaDrive screw drive and improved clutch to silently cock the bow.

The clutch within the VersaDrive system means you can now stop cocking or un-cocking at any point in the process with NO crazy free-wheeling of the cranking handle.

All that out of a bow that's 7.6" wide UN-COCKED, and 3.6" wide when cocked.

Finally add on the optional e-drive to cock or de-cock the bow with the touch of a button.
---

INDESTRUCTIBLE
Even though all that sci-fi type revolution in crossbow technology has us swimming all kinds of proprietary, patented and mold breaking options, there are times that just require a return to the simplest of designs. Many of the options outlined above require a full-fledged bowtech for regular repairs or even tuning in some instances. If your crossbow hunt is a long way from home, you sure don't want to be stuck shooting trophies with only a cell phone.
Excalibur Micro 340 TD - $999.99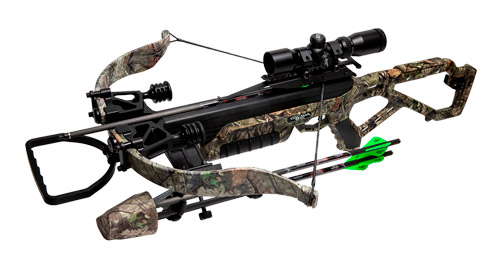 These may look like an old-fashioned medieval recurve crossbow because that's their design. But there is more tech here than meets the eye. Excalibur was the original with 35 years in the crossbow industry, and produce extremely durable, accurate, fix them in the field crossbows. Check out this video for 90 seconds of why Excaliber will exceed your expectations.
Features:
High output express limbs pump bolts down rage at 340 feet per second.

Tact-100 Illuminated Scope with reticle markings out to 100 yards.

All aluminum frame, riser and trigger housing keep this bow at only 5.5 pounds.

R.E.D.S. suppressors, air breaks and a sound deadening system will keep you silent way out in the back country.
The drawback? Without any cams for leverage, the draw weight for this basic recurve crossbow is 270 lbs. So it definitely takes a hefty dead lift to pull all the way to the cocked position. You certainly should not attempt the feat in a hang on tree stand. But if you're headed to the backwoods or drop camp for a week, take an Excalibur!
---
Bottom line, if you are ready to make the leap into crossbow hunting, or ready to upgrade check out the product page for each of the options outlined here as Nexgen's top picks in each category. Don't see one that perfectly fits you? Our
crossbow page
offers a huge selection from all the top brands with plenty of proprietary features and every price point. Give us a call or hit the chat button if you still can't decide and someone will be happy to help you out. If your state allows, enjoy a longer season and more time in the field with a crossbow!