Posted by J. Nesbitt on Feb 9th 2021
INTRODUCTION
As we have pointed out in several articles, responsible gun ownership is something we are obsessed with here at Nexgen Outfitters. In the last year, we have been grateful for the chance to help record numbers of people purchase the best firearm to fit their next hunting or training scenario, many times their first firearm. Analysis by the National Shooting Sports Foundation indicates there were over 8 million first time gun buyers in 2020. So now more than ever our obsession with safe transport, safe usage, safe storage, and diligent maintenance continues to grow.
In this article we will focus on safety and storage options, and a few of our picks for the best product in each scenario.
---

BLOCKS
Gun blocks come in a couple different common types, and most new guns include one of these common blocks in the box. These devices are easily affordable or even free through many community safety programs, and when used properly will prevent an accidental discharge.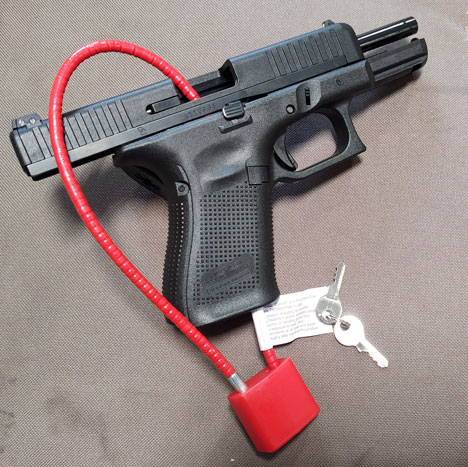 A trigger shoe or commonly called a trigger lock simply locks around the trigger and prevents it from being manipulated. Access to open and close the lock varies from keys on the most inexpensive locks, to simple combination locks for a few bucks more and biometric (fingerprint) manipulation in more expensive units. Because these units come in contact with the trigger, MAKE SURE THE FIREARM IS UNLOADED when applying the block.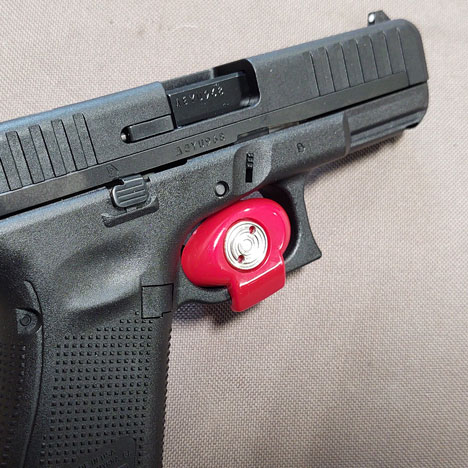 Cable locks prevent the action of a gun from closing and are also available with varying styles of access and associated cost much like a trigger block. Different lengths of cables and the way they are routed through the firearm can even be used to ensure a magazine cannot be inserted while the cable is present.
While blocks are super inexpensive and effective in preventing accidental discharge, they do not protect your investment from physical damage or provide any theft prevention.
---

CASES
"Frankly" as my grandma would say "There are more choices for gun cases than Carters got pills"! If that reference went right by you, suffice to say there are A LOT of options. Luckily, the crew here at Nexgen Outfitters has plenty of miles on our guns, and we love to share that experience.
As crazy as it sounds, you will be surprised at the number of opinions and their conviction to use or not to use simple gun socks. Most of this information will be related to whether they provide moisture protection or not, and ALL our experience is that a quality sock (treated with silicon) absolutely helps protect your firearms from moisture creeping onto all those vital metal surfaces. These simple and inexpensive coverings are also useful in a crowded case or safe to keep scratches and dings at bay, so pick up a 3-pack or two to keep on hand.
Soft sided cases are really where the options start to run wild, so if you like to let your style shine through with colors or camo or gadget pockets there are plenty of options. Each of us keep a few options beside the safe to fulfill some basic transport scenarios; here are a few of our personal favorites: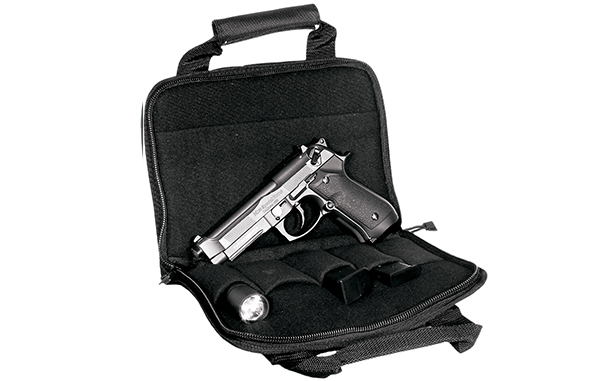 At $15, this soft case is a great combination of price, protection, and room for basic accessories on 90% of your range trips. Approximately the size of a notebook, it accommodates almost any model of handgun, along with 5 internal magazine pockets for single or double stack mags. Mike uses the external pocket for an extra box of ammo, a bore brush or snake and a small bottle of CLP type solvent which all fit nicely. A double pistol sized version is also available for a couple bucks more.



Quinn is a fan of using a basic soft case to get his guns from the truck to the blind, pit or stand, and the new for 2020 series of cases from BlackHeart Gear has become the favorite after one season. They are really sharp looking with their green and tan rugged canvas design, including external storage pockets for accessories. But the inside is what stands out. The plush interior lining features INHIB-X, a special silicon infused material that not only prevents scratches but helps to repel moisture. Innovative zippers are backed with a guard flap, so the metal zipper never touches the firearm. A wide carry strap with a cushy shoulder pad and plenty of adjustment makes carrying this case secure and comfortable for a great price.
Our crew here at Nexgen respects and cares for our gear, but at the same time we demand exceptional performance from every thoughtful feature built into this equipment. These hard sided waterproof cases from Surelock Security have proven to provide the "plush ruggedness" (as Alex said it best) that demanding gun owners will appreciate in several travel scenarios. And they have done it so that you can hang onto an extra $20-spot when comparing to the same features in other brands.
Lightweight reinforced polypropylene shell

Soft Foam interior perfectly compresses and cradles your firearms and optics, plus the new perforated middle layer allows for plucking out the perfect shape for your specific make, model, and optics set-up.

Five rugged, molded hinges rotate around sturdy steel rods.

Four upgraded, heavy-duty camlock latches open easily but are hardy enough to fully engage the seal.

Rubber seal runs the entire perimeter of the case locking out moisture and the tiniest dust particles.

The seal is so airtight, that the pressure relief valve is necessary to equalize the forces inside and out during big swings in temperature or elevation.

Integrated reinforced locking points (for padlocks sold separately) secure your valuable investment.
If you are throwing gear in a UTV or trailer across a rough dirty trail, kicking up backroad dust on your way to base camp, or even need a TSA approved option for flying with your firearm look no further than the Renegade series cases from Surelock Security.
---

LOCKBOX/MINI-SAFE
More than ever, people are looking for a safe way to store a "go-to" firearm in a convenient location that is impervious to unauthorized entry yet instantly accessible if the need arises to protect yourself, your family, or your property. One of our absolute favorite (and fellow husker) brands, HORNADY, has fulfilled all those requirements with their RAPiD Safe line-up. Our preferred unit is the 2600/2700 KP models that are perfect for convenient but tamper proof access to almost any style pistol.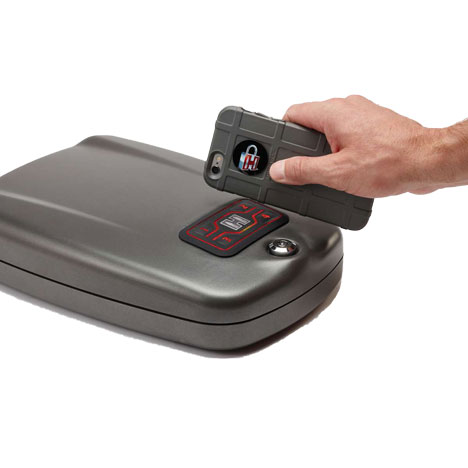 Heavy Duty Construction – 14 Gauge Steel with 2 hardened locking lugs

Certified Child Resistant exceeding ASTM International Standards

Mobile or Mounted – permanently mount with predrilled holes or the included 1500lb steel cable and is also TSA approved for handguns in checked baggage when traveling.
Fast, Dependable Touch-Free entry with up to 5 RFID tags and a spring-loaded lid.

Keypad for back-up entry

Keyed entry to make sure there's ALWAYS a way to open.
---

FIREPROOF SAFE
The unequivocal secure way to store your gun collection, whatever the size or value, is in a fireproof gun safe. Several brands like Liberty, Cannon, Winchester or Steelwater have quality units and a long history of production, but a relative newcomer in Surelock Security has jumped out with a line-up of superior safes at great prices.
There are a couple standouts in the lineup for us. The 24-Gun Inspector model provides affordable level 1 security for owners with a small practical arsenal and a tight budget. 14-gauge steel, with 5 hardened locking bolts and 30min of fire protection gets you great bang for the buck. Bump all the way up to the General series 35-Gun model for the ultimate in protection. The General features 11-guage steel, 16 – 1.5" locking bolts, internal "auto-on" LED interior lighting and 90 minutes of fire resistance.


Check out the full line-up here and see which model fits you. These are also shipped right to your house for the price shown, so you don't have to find 4 strong friends and pay the chiropractor just to get your safe home!

---
If you have recently picked up your first firearm, or continue to build up a collection please make sure you have considered the best way to safely transport and store each gun. Hopefully this piece helps you navigate the ocean of options to pick the most practical solution for your budget.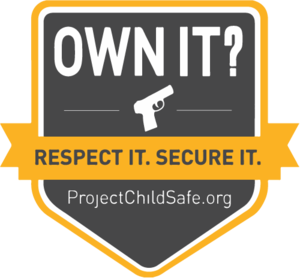 Nexgen Outfitters supports Project ChildSafe®, a nonprofit charitable organization committed to promoting firearms safety. Project ChildSafe is a real solution to making our communities safer. More than 15,000 law enforcement agencies have partnered with the program to distribute more than 36 million firearms safety kits to gun owners in all 50 states and the five U.S. territories. Project ChildSafe has helped raise awareness about the safe and responsible ownership of firearms and the importance of securely storing firearms to help reduce accidents and access by unauthorized individuals.